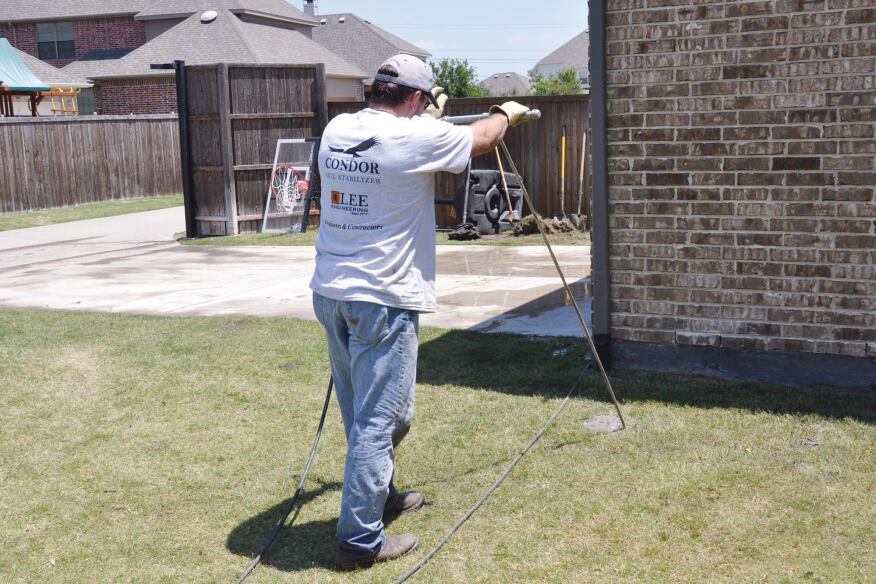 Stable soil is essential to construction projects. Builders in drier markets often must deal with clay that swells from too much water, which can cause "a slow-moving earthquake," says one foundation expert.
Preventive measures include installing mechanical piers under structures or soil treatments with lime or potassium chloride. Those remedies, though, can be expensive and temporary, asserts Shane Kennedy, and "don't fix the problem." Kennedy, president of Wilsonville, Ore.–based Earth Sciences Products, instead advises the use of a soil stabilization product called Condor SS that his grandfather first developed in the 1970s.
Kennedy explains that platelets in soil are overcharged with negative ions that bind water to the platelets. These electrochemical bonds create a "volumetric change" that causes soil disruptions. To correct that, the Condor SS solution is injected into the ground with the goal of permanently neutralizing the dirt. "It changes the soil's chemistry," explains Harold Prather, owner of Prather Engineering in Burleson, Texas.
Last fall, Prather treated soil under 158 houses built by one of Texas' largest builders. Those houses had a unique problem: perched water from broken pipes or leaky sprinklers. Prather says the process achieved a 95 percent success rate, based on soil stability and owner satisfaction.
This process hasn't been more widely used because Kennedy's father wasn't interested in growing the company. But Kennedy wants to expand, and he's working with stabilEarth, an Arlington, Texas–based engineering firm, to train applicators and distribute the product and equipment. StabilEarth's president Tommy LaLonde says that in the 2½ years he's distributed this product, it's been injected under more than 300 structures. Through this spring, stabilEarth licensed three remediation applicators, including one serving 20 markets. —
Learn more about markets featured in this article: Dallas, TX.