Almost four out of 10 homeowners in the 55+ range--37%, to be exact--plans to "move at least one more time," according to this analysis, the Freddie Mac 55+ Survey. That may not strike you as impressive. It's minority, after all, while 63% of that population plans to "age in place," if they get their druthers.
Think again.
There are 67 million 55+ homeowners, and as Freddie vp and Chief Economist Sean Becketti notes here, Baby Boomers and other homeowners over the age of 55 control almost two-thirds of the nation's home equity--about $8 trillion.
So, when you do the math, the number of 55% homeowners who plan to move at least one more time gets mighty impressive, 27 million. Becketti writes:
This isn't just about downsizing to a rental or nursing home; 19 million plan to buy a home and nearly 8 million expect to move within the next four years. What's more, half of the 19 million likely movers expect to buy less expensive homes.
Okay, so that's the 55+ group, those born before 1961, and that Baby Boomer universe of 55+ers keeps expanding for another four years or so. Here's one way to look at the opportunity: It's like the first-time home buyer market all over again, except that it involves a cohort with credit, with discretionary resources, with time and experience to be discriminating buyers, and with the intention to make their 55+ home purchase one of life's rewards. So, what might some good number of this 19 million-strong group of people who intend to buy a home be looking for? More importantly, what do you need to do to anticipate what your 55+ customer wants vs. what they know and say they want?
As you may know, the focus of our NEXTadventure program with Taylor Morrison is a year-long strategic collaboration initiative aimed at innovating customer care-driven design, living, and community experience for the 55+ buyer. We just broke ground at Taylor Morrison's new Esplanade at Highland Ranch community, in Clermont, Fla., and the NEXTadventure Home will be ready for the spotlight, January 10-12, 2017, in Orlando.Key to this program is discovery, learning, doing what we can to find out not only what people say they'll want but what we believe they want beyond what they'll tell us.
Our first steps in this discovery process was a series of focus groups--people who were either recent buyers or recent prospects of 55+ communities, both Taylor Morrison-developed and not. Then, we conducted research with our insight partner The Farnsworth Group, to surface values, preferences, and attitudes we felt would be helpful as we continued to develop the design and architectural program. Some of those findings are like light-bulbs, continuing to affirm that our 55+ area of focus in many respects resembles a "first-time buyer"-like cohort for whom need, preference, and values entwine into motivation toward both the practical and the desired.
Our intent, of course, was to understand motivations of new home buyers, and a telling insight comes out at the top of the study as we look at the No. 1-ranking influencer of purchasing a new home, given eight choices. "Need for a change in home layout," ranks highest, clearly a hybrid of need and desire:
The opportunity to personalize, of course, figures into why almost anybody chooses to buy a new home these days, and the 55+ new-home shopper ranks it highest among five priorities as a reason to buy new over resale.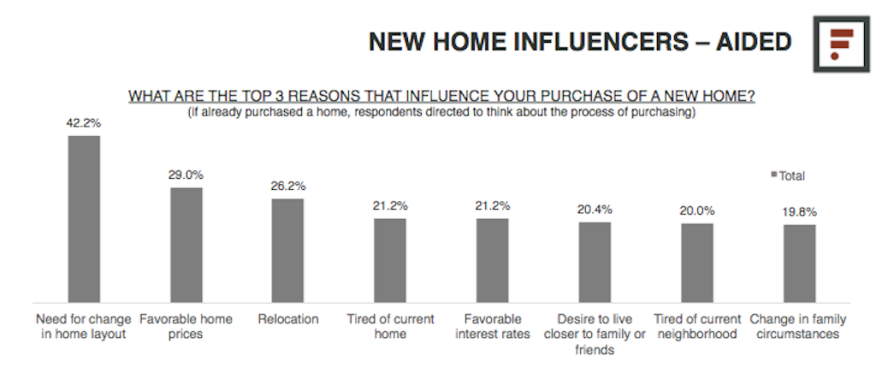 As a matter of fact, 9 out of 10 home shoppers in the 55+ pool tell us that they plan to make either small changes immediately or major changes over the next 10 years as they continue to look to personalize the home to their needs and desires during their experience of ownership.
As we've noted earlier, many people among this latest crop of 55+ buyers look at need and desire as interwoven. Look at how they respond to questions as to the kind of communities that "best fit their needs." Most say multigenerational communities, and fewest say age-restricted. It doesn't mean there will be no demand for age-restricted 55+ communities, it only means that the universe of people who predict that multigenerational communities "best fit their needs" is bigger.
One of the more intriguing "discoveries" that surface in our research is a shift in expectations that occurs when people move from "shopping" to "owning" a home. What people think they'll want when they conjure answers to the question, "how do you want to live?" may be different than who they actually live when they get into the new experience.
It's all about a NEXTadventure.