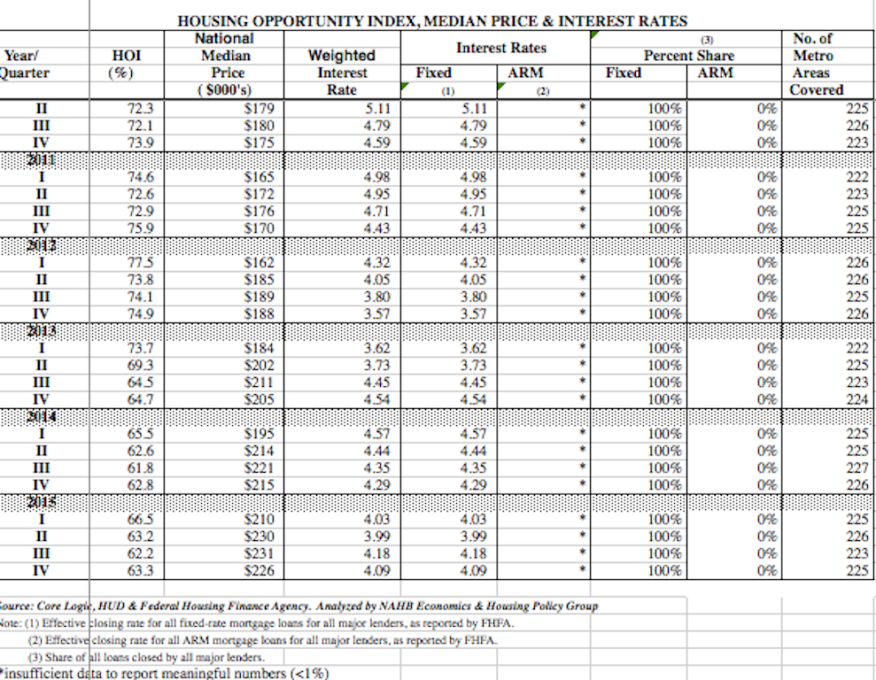 Homeownership affordability improved in the fourth quarter of 2015, even as homeownership rates fell year-over-year to 63.8%, which is hovering at nearly half-a-century lows.
Affordability, mind you, is a number in the minds of economists, not a prevailing sense of attainability in the populous. Affordability edged up, you see, because existing home selling prices (and some new home prices) came down, and because mortgage interest rates are dirt cheap.
Not because people are making more money from steady jobs with good prospects of wage growth.
Here's the thing. 2,600 square foot homes with a median price tag of $290,000 are good homes in good neighborhoods, and they're good for home builders' balance sheets, but they won't sustain momentum if the market for smaller homes, much less expensive ones, and much more attainable ones is stagnant.
Look at the median household income in the United States: $65,800. For that household, it's a 3.42 ratio of total income to own the median priced existing home, and it's a 4.4 ratio of total income to own a median priced new home.
The National Association of Home Builders looks at affordability through the lens of its NAHB/Wells Fargo Housing Opportunity Index, which last week noted that 63.3% of new and existing homes sold in 2015's fourth quarter were affordable to households whose earnings were at the median income level.
Were it not for low, low, low, low, low mortgage interest rates, many people who borrow money to pay for homes would be priced out of the market. In effect, artificially low interest rates are masking what some housing veterans are alarmed to say is a structural disconnect between everyday prices for homes (new and existing) and everyday wages.
If something gives on interest rates, that crevice between household earnings and prices gets greater exposure at a market level, and it needs to correct.
Meanwhile, here's the NAHB/Wells Fargo HMI "tell" on the most affordable of 225 markets, large and small. But first, here's a bit of NAHB commentary:
Youngstown-Warren-Boardman, Ohio-Pa. was rated the nation's most affordable major housing market, switching places with Syracuse, N.Y., which fell to the second slot on the list. In Youngstown-Warren-Boardman, 90.1 percent of all new and existing homes sold in last year's fourth quarter were affordable to families earning the area's median income of $53,700.
Rounding out the top five affordable major housing markets in respective order were Scranton-Wilkes-Barre, Pa.; Toledo, Ohio; and Columbia, S.C.
When it comes to the least-affordable markets, San Francisco takes the cake, as it has since 2012, and its little companion, Santa Cruz-Watsonville, Calif., right there with the king. Here's the 25 least affordable metro areas--large and small blended.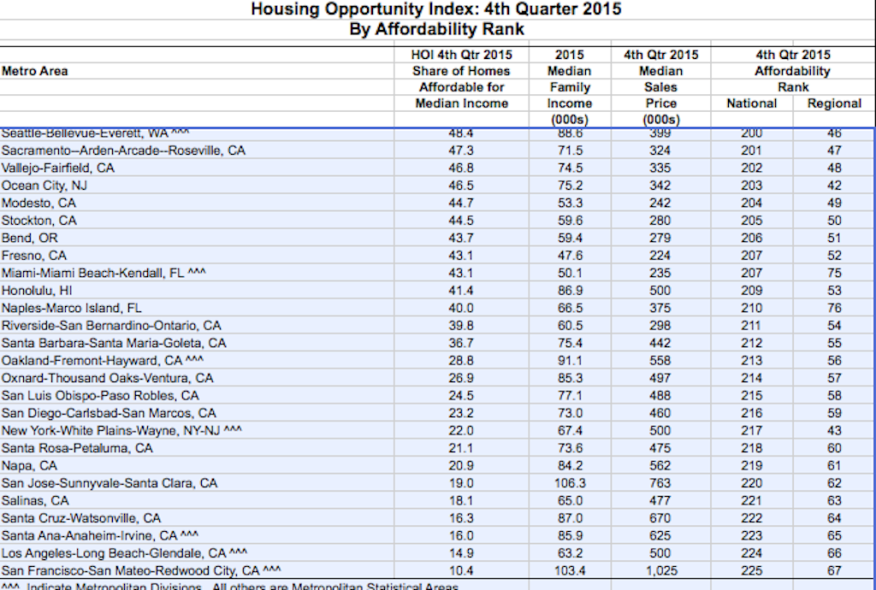 Interest rates, needless to say, continue to play too big a role in attainability for people, given their current earnings and immediate prospects.
The next time someone lambastes a candidate for focusing emphatically on what people take home in pay and can use on expenditures beyond medical care and student debt payment, versus talking about housing policy changes, remind that person, gently.
The fundamentals--a living wage that's secure and can grow--will go father to sustain recovery in housing than policy further directed at housing finance or regulation will.