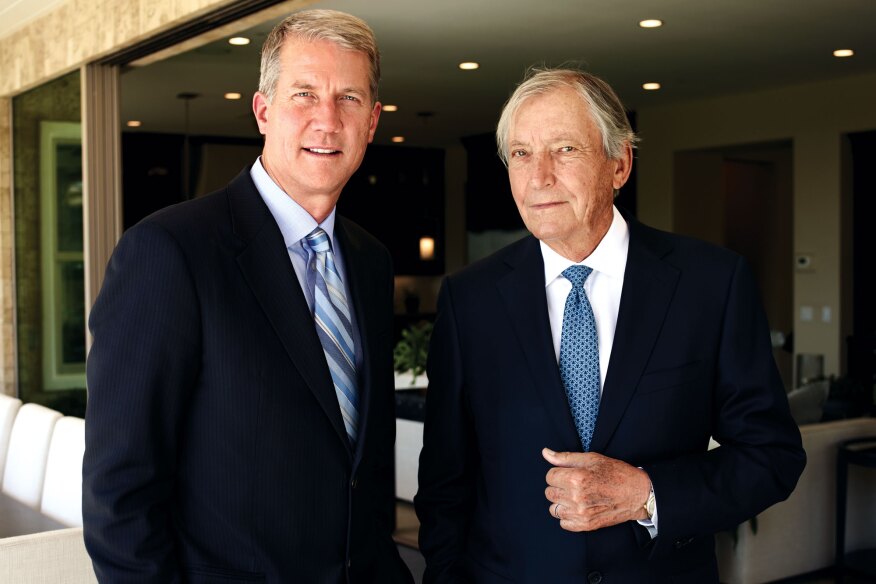 As Standard Pacific marks its 50th year in business, timeless value and new resolve propel it forward.
In May, Standard Pacific Homes opened four new neighborhoods in Tustin, located in Southern California's Orange County. The homes are in a community called Greenwood, in the heart of what's been known as Irvine Ranch for three generations of home builders and residential and commercial developers. Amid flapping banners, food trucks, and clinking glasses among local celebs, municipal notables, real estate pros, house hunters, sales associates, and town gadflies, Greenwood sprung to life as one of 1,000 or more new-home "stores" builders plan to open across the U.S. during the balance of 2015 into 2016.
But this one is different.
Call the opening a full-circle moment, irony, luck, fate, or anything else you might—this grand opening will go down in the history books for Standard Pacific and its executives. The new neighborhoods mark the beginning of the 50th year since the company first put its name on a 54-home community called Summerfield Homes in the Tustin area, not more than a mile from where the Greenwood community made its debut, on land whose provenance was the Irvine Ranch, a hive of older, middle-aged, and new neighborhoods that are among America's most progressive planned communities.
"Our durability and resilience over the years owe themselves to science, art, and luck," says Standard Pacific president and chief executive officer Scott Stowell, whose own part in the company narrative stretches back 29 years, when he moved over from the Irvine Co. as a developer and land seller to Standard Pacific as Orange County project supervisor in 1986. "The science part is in the disciplines you practice, both financial and operational, recognizing the risks of this as a cyclical business. The art part is in our ability to create value with vision on the ground that others may not see there. Finally, luck—the timing to be where and when the market will move always involves an element of chance."
A company in home building that's been a going concern for 50 years is a rarity. Public companies with such tenure are even rarer, with Los Angeles–based KB Home, Miami-based Lennar; Reston, Va.–based NVR; Atlanta-based PulteGroup; and Newport Beach, Calif.–based William Lyon Homes being the few whose direct pedigree traces back to the days of the early Beatles and a fresh-faced Bob Dylan.
What's significant about Standard Pacific's time in the limelight now is not the number of years it has endured in a half-century of residential real estate cycles, which have flirted with predictability only to revert to a particularly cruel fickleness. It's more about what the Standard Pacific story, especially today, says about home building. It's about what needs to motivate a company's—any company's—leaders. It's about how what doesn't change—values and the need for safety, shelter, human trust, and common sense—weaves together over time with what changes constantly and fast—technologies and tools for learning, attitudes, preferences, and economic and financial circumstances.
By reaching the 50-year milestone, Standard Pacific earns a new stature among home building organizations. It's a stature that points us forward toward housing's future, and less toward its modest beginnings as a building materials supply company Art Svendsen operated and shifted into home building when he asked a young Ron Foell to join the company in 1965. Svendsen assigned Foell the novel responsibilities of buying land and building houses for the second wave of buyers in post–World War II America.
Guiding Principles
Svendsen and Foell picked their company brand by melding the names off two blue-chip corporate organizations they regarded as ones to emulate: Standard Oil and Georgia-Pacific. Combining the two was an aspirational move—a goal around excellence, not a statement of ambition about eventual size of the company.