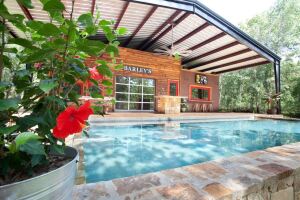 Texas custom home builder Erin Wright of Wright-Built, LLC has been involved with construction since she was 17 years old (she's now 33) and is forging the way for women in the building industry, says Darla Guillen in a profile for the Houston Chronicle. (subscription may be required.)
In 2003 when she launched her own company, she built her own 2,157-square-foot personal home in Hawkins, Texas, with a contemporary and rustic aesthetic and has since been known for her unique rustic-meets-industrial style.
Since then she's built nine new homes and done one remodel, and brought home a Texas Association of Builders Star Award for Best Special Project for a custom boat house she designed.
Wright says that among her critics are those who said one of her custom homes looked more like an ice house, so she's embracing this critique and implementing some countrified modern stylistic choices to build an "acoustic music kind of" establishment with The Red Rooster Ice House, which will soon break ground.
"We're trying to make a laid-back fun venue with good food," she says, explaining that it will (like many of her homes) have an indoor-outdoor feel.
As for home building, Wright will forge ahead with her custom creations, though she admits that recent success has helped her decide which projects she really wants to take on, saying she's had to decline projects in recent years. Her priority now is to draw in clients who share her vision.
Read more >