It may be impossible to be all things to all people, but Madison Place has proven to be a lot of things to a lot of people. Flexible floor plan configurations have allowed this community in California's Central San Joaquin Valley to hit a broad spectrum of targets, from first-timers, to move-ups, to empty-nesters. Five plans and three elevation styles (Craftsman, French country, and Tuscan) serve as the base, but factor in the myriad room options and buyers ultimately have a choice of more than 80 different plan variations. Blueprints can be sliced and diced to accommodate spaces such as a formal dining room, hobby room, guest suite, or extra garage space, as well as universal design features. Some plans flex up to an additional 478 square feet, notes architect Kevin Crook.
A well-designed Web presence by builder The McCaffrey Group (www.mccaffreygroup.com) was critical to making that cornucopia of plan options feel personalized rather than overwhelming. "Online interactive floor plans proved to be an effective tool that allowed us to visually demonstrate the various room layouts and distinctions with each elevation style, including footprint challenges," Crook says. Mail and e-mail outreach to homeowners in other McCaffrey communities helped draw site traffic and spark ­interest in the newest offerings.
It helps that the average lot size in this handsome neighborhood of single-family homes is 7,400 square feet, whereas competitors' lots average 6,000 square feet. But the real edge is how each residence uses that extra wiggle room. Making the most of the region's temperate climate, the homes go heavy on indoor/outdoor connections, featuring wide front porches, entry courtyards, side courts, and rear covered patios.
Shrewd allocation of material resources also helped the project's sales stamina in the face of the housing slump. "We began the design process at the height of the market. Prior to construction, it ­became apparent that the ­market was starting to deteriorate," recalls builder Karen McCaffrey. "At that point, we brought in all the subcontractors to get their input on ways to create value-engineered efficiencies while maintaining the design integrity of the plans and elevations. We ended up taking costs out of places that were not seen or appreciated by the buyer so we could continue to include authentic details in the places that mattered."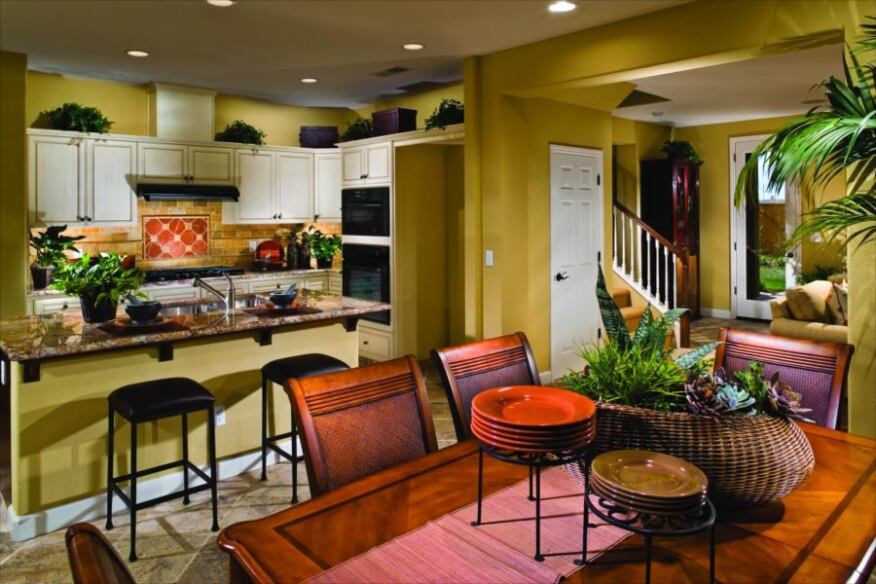 Many value engineering decisions were structural in nature. "We stacked walls to eliminate beams. We spread paired windows to have eight inches between them in order to allow two small headers rather than one large header spanning both windows," McCaffrey explains. "We looked at ways to reduce the amount of structural hardware required, and repositioned windows to efficiently stack exterior shear walls. We also stacked plumbing runs."
In the smaller plans, horizontal volume spaces stretching from front to rear helped reduce interior framing—a move that conserved wood and labor and elongated sight lines­—and made each house feel larger.
But there were other architectural details the team agreed should not be compromised. Buyers have taken note of the community's well-articulated façades, complete with exposed rafter tails, wrought ironwork, crisp window and door trim, ­generous use of brick and stone, and window mullions and shutters styled to fit their respective elevations. Each home feels ­special, and the cumulative effect is major streetscape appeal.
Since the project's grand opening in May 2007, 87 homes have been sold, 60 of which closed and are occupied. Riding the momentum set by Madison Place, the builder introduced the same product to an ongoing community that had 13 lots remaining in September 2007. All of those homes have now closed, and the plans have made a third debut in another community in the nearby city of Clovis.
Community: Madison Place
Total acreage: 61
Date opened for sale: May 2007
Product: Single-family homes from 1,450 square feet to 3,892 square feet
Price range: $245,990 to $385,990
Total number of units at build-out: 231
Sales to date: 87
Builder/Developer: The McCaffrey Group, Fresno
Architect: Kevin L. Crook Architect, Irvine, Calif.
Learn more about markets featured in this article: Los Angeles, CA.